Welcome to St Scholastica's Primary School, where our motto "To Jesus, through Mary" guides our work.  Our faith is seen in action through our collaboration with families and the wider community and a strong commitment to social justice. We embrace students from many faith backgrounds and a diversity of learning styles which enrich our daily lives and strengthens our capacity to learn. Our community is woven with diversity and we celebrate all.  We foster the growth of every child – spiritually, academically, socially and emotionally.
The wonderful partnership between families, children and educators sets us apart from other schools.  Together, we uphold the dignity of every person, fostering an environment where all learners thrive as we encourage them to question, inquire, challenge and make a positive impact on the world.
Every student has the potential for success, a belief that drives us, and we invite you join us at St. Scholastica's to witness the magic of possibility.
Come and visit us, meet our passionate staff and enthusiastic students.  Experience for yourself, the warmth and enrichment that St. Scholastica's can bring to your child and your family.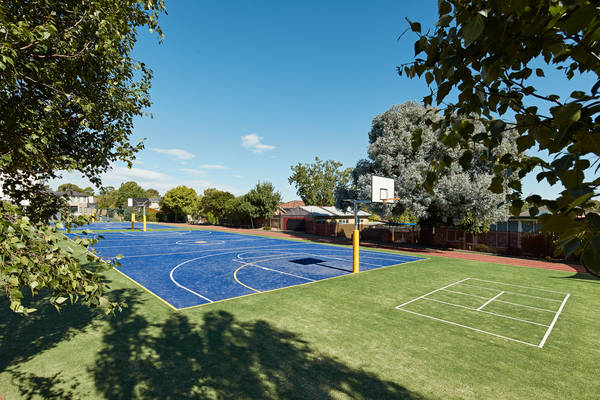 Vision Statement
At St. Scholastica's we work in partnership with families and the community as we follow the teachings of Jesus.
The dignity of each person is respected and the diversity of our community is embraced.
Confident learners are developed who will question, challenge, respond and contribute positively to the world.
Each child's spiritual, academic, social and emotional growth is enriched.
We believe every student will experience success.
St. Scholastica's
"Never see a need without doing something about it." 
Mary Mackillop
Blank Toggle for CSS - Don't Delete
Principal – Mrs Kasey Easdown
Kasey Easdown is a highly qualified educator with over 20 years of teaching experience in primary school settings. She has a strong academic background, holding a Bachelor of Arts and Bachelor of Teaching (Primary), a Masters in School Leadership specialising in Numeracy, and additional certifications in education and Catholic studies. Kasey has excelled in various leadership roles, including Deputy Principal, Religious Education Leader, Maths Leader and Literacy Leader. Her strengths lie in effective communication, relationship building and collaborative leadership. Recognized as a finalist in the Teacher of the Year Award, Kasey's dedication and expertise makes her an exceptional educator for any school community.
Wellbeing & Student Diversity Leader – Ms Christine Reed
Christine Reed is an experienced educator having worked in a variety of school settings over the past 30 years. Her experiences range from working in a bilingual Indigenous Primary School, working with new arrivals and refugees in the outer suburbs and also in many other school settings. She has extensive experience working with EAL students and promoting good EAL strategies with teachers. Christine initially completed a Diploma of Teaching (Primary) then went on to study a Postgraduate Certificate in Education (Middle Years Literacy), a Masters of Education (Student Wellbeing) and a Professional Certificate in TESOL (Teaching English to Speakers of Other Languages)
Christine has taught all primary school year levels, post-primary classes in a remote community of the NT and is an experienced school leader, having helped to develop many schools' proficiency in ICT, Special Needs and Student Wellbeing. She has volunteered in a secondary school in Timor Leste and completed a workplace exchange for six months at CERES Environment Park working in the education division, where she developed a passion, skills and knowledge in caring for and protecting the environment.
Christine has good knowledge of education, great cross-cultural skills, and a passion for creating learning environments where children are valued, heard and can thrive academically, socially and emotionally.
Prep – Mrs Brooke Tamburrino
Brooke has a bachelor's degree in Early Childhood and Primary Education, accompanied by a Certificate in Religious Education. She is an experience classroom teacher along with being a specialised teacher of Performing Arts. Brooke is passionate about creating an environment that nurtures and supports each student's style of learning, providing a range of opportunities to develop and grow. She encourages each student to share and celebrate one another's achievements as well as appreciating everyone's individuality. Brooke aims to ensure each student feels safe, valued and has ownership of their classroom. She tailors her teaching to meet the point of need for each of her students, using relevant data to guide her planning to give the student the best chance to achieve success as well as continuous growth. Brooke believes that learning can only take place when the student feels connected and comfortable within the environment and therefore ensures she develops positive relationships with every student to create the optimal learning space.
Year 1/2 – Miss Madeleine Whitty
Madeleine has a Bachelor of International Studies and Anthropology and a Masters of Primary Teaching, accompanied by a Certificate in Religious Education. She started at St Scholastica's as a graduate and is now enjoying her second year of teaching. She is passionate about creating a nurturing and inspiring learning environment that fosters growth, instils confidence and cultivates a love for learning. She strives to develop positive relationships with every student and creates a safe and inclusive space where every student feels valued, respected, and supported. Passionate about ensuring positive academic outcomes, Madeleine tailors her teaching to meet the diverse needs of her students. She assesses their abilities, identifies their learning style, and designs engaging and differentiated lessons that cater to their individual strengths and areas for growth. Whether through hands-on activities, group work or individualised instruction, she strives to make learning accessible and enjoyable for all her students.
Year 1/2 – Miss Chloe Warner
Chloe has a bachelor's degree in Early Childhood and Primary Education, accompanied by a Certificate in Religious Education. She began her teaching career at St Scholastica's and is currently enjoying her second year of being a teacher. Chloe is committed to making a positive impact on the lives of her students by building meaningful relationships and showing a genuine interest in their lives. Chloe's goal is to create a nurturing, welcoming and inclusive environment where every student feels valued, supported and motivated to reach their full potential. Chloe strives to cater to the unique needs of each student, helping them grow academically, socially and emotionally. 
Being a teacher is an incredibly rewarding profession that brings her immense joy as she witnesses the remarkable journey of students' learning and personal growth.
Year 3/4 – Ms Catherine Findlay
Cat has recently been welcomed back into the St Scholastica's community with open arms. She had previously been the Kindergarten Teacher and Director of St Scholastica's Kindergarten.
Cat comes to St Scholastica's Primary School with a Bachelor of Early Childhood Education and a Bachelor of Primary Education. Being a teacher brings her joy and fulfilment. Interacting with enthusiastic and curious students fuels her passion for education. It's incredible to witness the spark of understanding when a difficult concept finally clicks for a child.
She encourages a vibrant classroom environment, filled with creativity and laughter. Building strong relationships with students and watching them grow academically, socially and emotionally is incredibly rewarding.
Cat really enjoys working alongside a strong team of committed and passionate educators, who foster the love of learning and cherishes the opportunity to work as a team to help guide children to develop essential skills that will shape their future and make a positive impact on their lives. 
Year 3/4 – Mr Ben McCarthy
Ben McCarthy is a graduate from Australian Catholic University with a Bachelor of Primary Education and he is beginning his teaching career at St Scholastica's. Ben has an unwavering passion for teaching and a love for working with children and watching them grow. As an educator, he possesses a genuine commitment to nurturing young minds and fostering their growth. With a strong educational background and a deep understanding of effective teaching strategies, he aims to create a welcoming and engaging classroom environment where every child feels valued and inspired and can become the best learner they can. Through his dedication and infectious enthusiasm, Ben aims to ignite a love for learning and leave a lasting impact on his students. He loves the passion that all his students have for learning and the smile on their faces each and every day.
Year 5/6 – Miss Georgia Amerena
Georgia has a bachelor's degree in Education and a wealth of teaching experience, which has shaped her perspective as an educator. Currently, she holds a leadership role in Learning and Teaching, specifically in the areas of Literacy and Digital Technologies. Georgia's passion for education drives her to support students not only in their academic journey but also in their overall wellbeing. She strives to create a nurturing and inclusive classroom environment where students feel supported and valued. Georgia aims to engage students and foster their love for learning and is committed to their growth, both academically and emotionally. Being an educator is a fulfilling experience and Georgia is dedicated to making a positive impact on the lives of her students.
Year 5/6 – Miss Georgia Halloran
Georgia has a bachelor's degree in Early Childhood and Primary Education and has been teaching for many years. She has both experience in the lower and upper primary years and holds a leadership position of Maths leader for the school. Georgia always aims to create an engaging and inclusive environment that promotes a thirst for knowledge and learning. She highly values creating genuine relationships with students, not just in her classroom but across the school. In recognising the unique strengths and individual needs of each student, Georgia tailors her teaching approach to ensure every child thrives, succeeds and reaches their full potential. Beyond academic achievements, she is committed to nurturing all aspects of the students including their wellbeing so they feel safe and supported at school, which is an essential for growth. Georgia aims to empower them to become confident, compassionate individuals who are ready to tackle the challenges of the ever-changing world.
Specialist Subjects
Performing Arts
Mrs Brooke Tamburrino
Visual Arts
Mrs Marissa Kilbride
Physical Education
Mrs Carolyn Day
Language Other Than English (LOTE)
Senora Elissa Zupo
Learning Support Officers
Mrs Nicole Loft, Ms Vanessa Musarra, Mrs Kim Neate, Miss Zoe Douglas & Mrs Katherine Presley
Literacy Support
Administration
Mrs Karen McLaren
St Scholastica's is an exceptional school for foundational education.  Our family has sent three kids here, and they've all had a wonderful experience.  The teachers are incredibly friendly and treat everyone like family.  The principal knows every student's name, creating a welcoming and inclusive atmosphere.  It's no surprise that families have been sending their kids here for generations.  I highly recommend St Scholastica's for any parent looking for an unforgettable educational experience for their child.
As a parent of both a past and current student, I would recommend St Scholastica's Primary to any parent who is seeking a school where the children and the community take precedence. The staff give their heart and soul to not just educating, but investing, developing and nurturing each child based on their needs. In times where some schools have become over populated and children become another number, St Schols has succedded in maintaining a personal approach where all staff and students alike know each other by name, creating a sense of belonging. The school is warm and inviting, with many commenting "it just has this feeling you don't get anywhere else" when you walk in the door. Having undergone extensive refurbishment in 2020, the new facilities provide an exciting space for children to learn.
We chose St Scholastica's primary school for our children because the students were happy, engaged and excited to see their teachers and principal. Our children are well-known and cared for by all staff. The small school environment provides unique opportunities like captaincy roles, public speaking, running assemblies, and having their ideas valued and heard. They have a chance to enjoy their childhood while learning and preparing for high school. Our older children are now thriving in high school, thanks to the solid foundations and experiences they gained from St Schols. It is a beautiful and caring school community.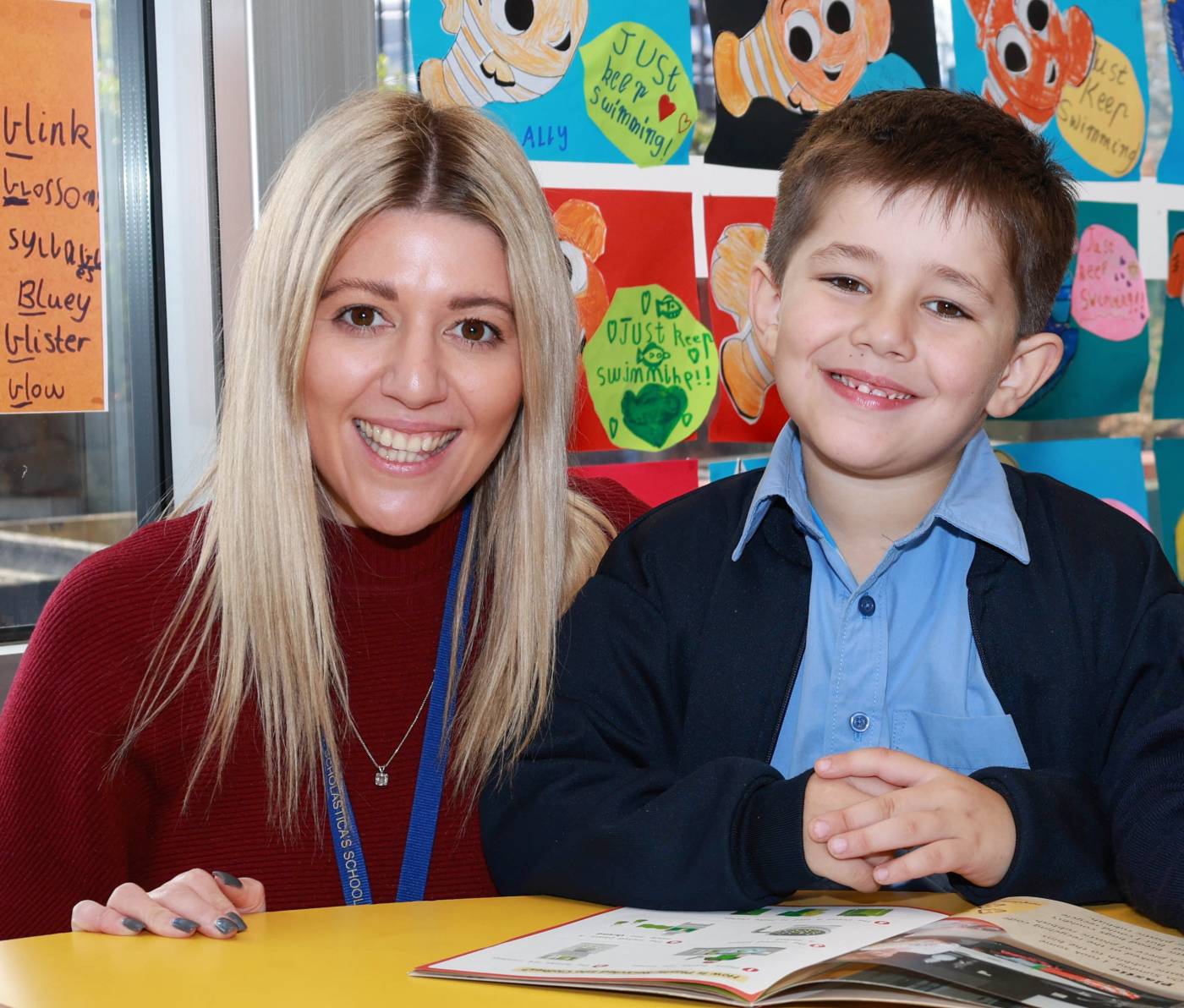 St Scholastica's Primary School is a nurturing and inclusive environment guided by strong and compassionate leaders. From the very first day, my children felt welcomed and valued as members of the school community. They moved here from another school and have gained a new lease of life – aided by the fact that the school fosters a strong sense of connectedness between students, staff and families.  The school is small enough so that everyone is known and their journey of learning is quite personalised. The classrooms are traditional and don't come with interruptions that can happen in the more open-plan type environments. Overall, like the spiritual and social realms, the physical environment is inviting.  With this basis for a community, my girls have thrived in their learning at St Scholastica's. Their individual needs have been deeply heard. And I think they are creating some wonderful primary school memories here.
The school community and culture at St Schol's is the reason I send my kids here. It is welcoming, inclusive and attentive to the needs of the children and families. My kids are happy and thriving thanks to the guidance of the fantastic teachers and staff. I would highly recommend St Schol's to any families looking for a well-run primary school.
As soon as I entered this school, I saw Happy Children. They are kind to each other and look after each other. Also nice teachers and staff contribute to the happy vibe. Love St Schols!
St Scholastica's is a hidden gem of a primary school. As the parent of two students, St Scholastica's has provided care, kindness and attention for both my children. The school not only teaches my children but also nurtures them. One of the best things about the school is the teaching staff, and the personalised approach to learning for each student that helps them all to achieve and grow as individuals. St Scholastica's is a school that takes the time to get to know each student and has created a safe and caring environment for all. To sum up St Scholastica's, it is a school filled with great staff, strong leadership and a dedicated support staff. It's a wonderful community to be a part of and my children enjoy going to school every day.
Donlan House
(Red)
Frank Donlan was the first lay principal at St Scholastica's Primary School.
MacKillop House
(Blue)
Mary MacKillop is Australia's first saint.
Phillips House
(Gold)
Patricia Phillips was a long serving principal who made a profound impact on curriculum development and the education of the students here at St Scholastica's Primary School.
Maltby House
(Green)
Fr George Maltby was first parish priest at St Scholastica's Primary School, overseeing many buildings and practices still enjoyed today.
Australian Democratic Values
Care and Compassion
Honesty and Trustworthiness
Understanding
Doing Your Best
Integrity
Tolerance and Inclusion
Fair Go
Respect
Freedom
Responsibility